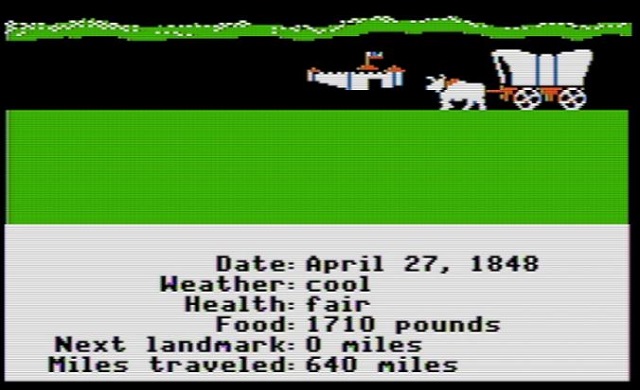 I grew up in Minnesota, and one of the many great things about growing up in that state was the state education department pushed computers early on. In the late 70s, and 80s my schools were filled with Atari 400/800s, and Apple II computers. Minnesota also owned a company named MECC.
Minnesota Educational Computing Consortium (later Corporation), was better known as MECC. MECC produced a ton of edutainment game software, and some of their games have become classics.
More about MECC from
Wikipedia
Quote:
The Minnesota Educational Computing Consortium (later Corporation), most commonly known as MECC, was an organization founded in 1973. The goal of the organization was to coordinate and provide computer services to schools in the state of Minnesota; however, its software eventually became popular in schools around the world. MECC had its headquarters in the Brookdale Corporate Center in Brooklyn Center, Minnesota.

…..

MECC developed hundreds of microcomputer educational programs, many converted from the time-sharing original; by 1979 some MECC programs for the Apple II could be downloaded from the timesharing system. MECC distributed The Oregon Trail and others in its library to Minnesota schools for free, and charged others $10 to $20 for diskettes, each containing several programs. By July 1981 it had 29 software packages available. Projector slides, student worksheets, and other resources for teachers accompanied the software.

As control over computer resources moved to local levels within Minnesota, MECC's focus on selling software grew. Beginning in 1980 with the Iowa Department of Education, 5,000 school districts around the world purchased site licenses for MECC software. It distributed 250,000 copies of MECC software around the world by 1982, and the "Institutional Membership" business became so successful that state subsidies ended. In 1983 MECC became a taxable, profit-making company, owned by the state of Minnesota but otherwise independent. By the 1985-1986 school year MECC offered more than 300 products and had about $7 million in annual sales.
At any rate one of my favorite computer games to play at school was The Oregon Trail. I road the bus to school, and so I always got there about 40 minutes before my first class. On many cold mornings my friends and I would rush from the bus to the school's library. One of us would run up to the front desk and check out an Oregon Trail, Print Shop, Carmen Sandiego, or one of another dozen favorite diskettes.
I had a little time today, and took a walk down memory lane with an Apple II emulator. I played a lot of fun old games, and I made sure to play some The Oregon Trail. Here is my playthrough.
On a side note the game does have sound, but you don't hear it until you're about to hit the trail.